When She Woke by Hillary Jordan
Hillary Jordan has done us a wondrous favor - reminding us of what can happen when a society allows fear and anger to shape its policies. Hannah has made a choice and must now pay the price for her actions - she is painted red and must try to live in a world full of hate. Or, she can run away with the help of others. This story SO reminded me of Fahrenheit 451. But it's also got attachments to other great stories of warning. You'll recognize them instantly in these pages. Loved it!

Some Girls Some Hats and Hitler By Trudi Kanter
Trudi Kanter's ability to take you inside her memory is phenomenal. Her tone is fluid, yet full of the tension of the times. As a memoir, it mostly reads like memory regression, in the present tense, with occasional lapses into traditional tense. You're there, seeing the surroundings from her eyes. Her use of unique phrases – "…it was delicious to know who was walking with whom" – and the way she speaks directly to her husband's memory – "The first time you came to No. 11, you were very shy." – adds a dreamlike familiarity to her prose which I found so refreshing. A love story, a reminder of a cruel period in history, and a book filled with hope, beautifully written. I'll never forget it!

The Lighthouse Road by By Peter Geye
To be disavowed of romantic notions regarding our pioneering history, read this book! In northern Minnesota, circa 1890s to 1920s, it's cold, it's brutal and above all, life is largely based on necessity. But there's also beauty here… the beauty of relationships, of dreams and of hope. And love. This is Odd's story, but also Rebekah's. They come together, each bringing a personal history built on pain and disappointment. But they do find each other. The question is, can their love sustain them or will it, too, let them down? There's some very good writing here.
When Jess Walter won the Edgar for Citizen Vince, it came as no surprise that half of Spokane's residents raised a stout glass of foam (of the alcoholic or root beer type) in celebration. I don't know what the other half was doing, but I expect them to tip one when Jess's new book shows up now that they've caught on to all the excitement. Jess is a well-respected citizen of Spokane, Washington, and we expect him to pump out a few more great ones before he gets sick of entertaining those of us who occasionally snivel about being a tad bit confused.
Not that I'm one of those mind you. I caught on after only a chapter or two when I started reading The Zero, and settled in for one of the most mesmerizing rides of the year. Jess likes to try new things. Jess likes to get you to think and if he can get you to pretend you're a pretty mixed up guy who can't really tell where or when he is at any given moment, well then, that's even better. I should hold up for a minute and confess that I don't have the right to speak for Jess - his intentions - his plans - his, well you get it. I don't really know what he was trying to do with The Zero except maybe satisfy the hungry little grey cells of brains like mine. I absolutely abhor nicey-nice, easy to track, unchallenging fiction. So I say, bless you, Jess, and keep em coming...
As for the book, here it is in a nutshell:
Brian Remy, having shot himself in the head - after nearly being "taken out" by a terrorist attack - (did I mention he's a cop?) - is just a bit scattered. As a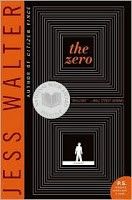 matter of fact, he finds himself scattered all over town. He keeps "nodding off" in one scene and "waking up" in another, with no idea of what happened between takes. What's going on?
Your guess is as good as mine as the much overused saying goes, but if you're like me, you won't be able to pass up the chance to try to come up with a logical explanation for these events. Our brains are like that. They are bent on making sense out of everything. In fact, that's part of Remy's motivation as he mentally staggers from one bad situation to another; even worse, dragging his body along with him. Oops, maybe I've given something away. No, it's okay, I don't think I did.
Anyway, if you like a bit of dramatic mystery melded to your Kafka, you'll love The Zero. I promise! I think...